Discover our software solution for monitoring SaaS MEMOGuard . From any place , our supervision SaaS solution allows monitoring alarms, alerts and computer systems.
The SaaS monitoring tool still level , not be concerned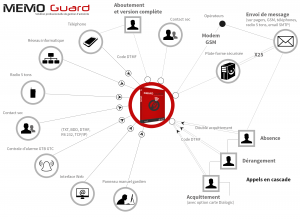 MEMOGuard our SaaS monitoring tool receives in real time , via the networks, alarms all your systems. That your servers are at home, at your host or in the cloud, for us, it 's the same . Monitoring software in SaaS , MEMOGuard can process alarms or requests for action from many different sources , all of the most common protocols are supported .
On an alarm , MEMOguard triggers the execution of a list of associated shares a procedure or procedures that will ensure the management of the event. Actions can also be triggered when returning to normal status or an alarm acknowledgment. MEMOGuard broadcast the alert message using all media offered by modern technology , email, fax , SMS, pagers , voice …
MEMOGuard integrates call management features with highly advanced planning, with accessible via a web interface , it allows to define a simple, fast and intuitive people guard to prevent each type of alarm, y- including the actions to take in case of failure and not care for the alert.
SaaS Supervision: You customize your alerts notification policies : what type of incidents? How strict ? what timeframe ? What people ? How often ? mail , SMS , voice ? etc …
If dysfunction, regardless of the anomaly, the custodial staff is immediately alerted , following a standard policy or that you have configured at any time you have also the possibility of " swapping " your alarms in a timely manner , or for a short time .
Brand new feature developed by our R & D team is directly updated on the platform, and immediately available to all our customers without any action on their part, neither additional cost. No more updates, security patches , recurrent migration … Place in a supervisory tool SaaS still level and without worry about it !
MEMOGuard ensures continuous control of monitored applications and services. It records all detected events and calls and interventions triggered in response . It is possible to transmit a response report "vocal" mail for the management and monitoring of files .
The MEMOGuard supervision web interface to interact remotely on his farm through a LAN, WAN or even the Internet