SMS Gateway : Gateway with standalone GSM / GPRS modem , broadcast messages on all media. If you have servers, computer networks , industrial equipment , home automation in place and want to go back alerts by SMS or other signal , there are several ways to do this with our solutions.
SMS Gateway with 4 GSM modems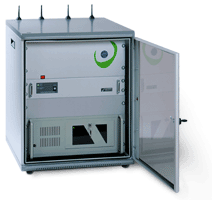 Professional communication gateway SMS Gateway with 4 GSM modems The dispatch is via GSM modems, which ensures total autonomy. Access to our platform is however possible (particularly in the case of secured or priority mail ) Sending the platform is by RTC TAP protocol or internet protocol HTTP , FTP, SMTP, SMPP and other protocols
SMS Gateway Gateway Business
According to the problems encountered by the company SMS GATEWAY will be equipped with all of our solutions and services added values ​​and benefit from the latest technologies for broadcasting messages , SMS, email, voicemail , fax, pager . The communication gateway is easily integrated into SI.
The SMS GATEWAY depend on your internal system and will include at a minimum, our software and one or more modems finally for possible security reasons, you will also have the ability to connect your gateway to our platforms to be used as a simple back -up . The use of internal modems require for you to acquire SIM cards (GSM- SMS subscriptions).
Use of sending sms gateway business has many advantages , firstly you have complete autonomy internally, finally, it offers a sending speed, with the use of contact lists , backup of your sent sms, and control over the use of SMS sent or received , you will have text templates , and you can easily also be programmed in advance for them to leave at your convenience.
The set of all such information can be imported and exported into an Excel spreadsheet or csv format , and in addition to SMS, you have the option to also send mail, pdf and fax.
Our mobile sms email gateway provides effective solutions processing messages , it can transform mails sms, sms or generate automatically starting from excel file type. It is integrated into the information system of the company . The message log is available to you on the sms gateway.
Gateway SMS gateways , integrate new technologies and allow you to send and receive text messages, and also via connectors faxes, voicemails and emails , they are well on SMS client -server applications … but if desired all or part can be installed remotely (SaaS) .
Gateway SMS avec MODEM GSM/GPRS
It is possible to configure multiple GSM / GPRS modems, below the description of the most used modem with RS232 , USB , etc etc.